Last month, Nick Cannon abruptly quit his hosting job with America's Got Talent, after NBC execs were reportedly trying to regulate the content he was performing outside of the show in his stand-up sets. Rumors has been flying about the top picks for his replacement, and all of the names have been pretty prominent black male comedians, like Marlon Wayans.
Sign Up For Our Newsletter!
But in a plot twist, the TV show has settled on its next host, and her name hasn't been mentioned in the running before; it's none other than Tyra Banks. The former model and talk show host can certainly hold her own screen, but will she also have the comedic wit necessary? Check out this exclusive video to hear more in this clip from "The Rickey Smiley Morning Show."
RELATED: Gary's Tea: Will Nick Cannon & Mariah Carey's Twins Spend Time With Nick's Newest? [EXCLUSIVE VIDEO]
RELATED: Nick Cannon Explains Why The Richard Pryor Biopic Hasn't Been Made Yet [EXCLUSIVE VIDEO]
RELATED: Gary's Tea: Will Nick Cannon's New Child Have To Compete With His First Two? [EXCLUSIVE VIDEO]
Tyra Banks Hits The Big 4-0: Here's The GIFS To Prove It
1. Tyra's The Woman Of Many Faces
Source:
1 of 6
2. Hey Tyra, Are You Happy To Be 40?
Source:
2 of 6
3. Tyra Does Not Approve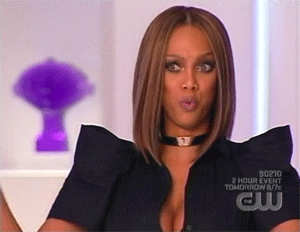 Source:
3 of 6
4. Word Of Advice From Tyra
Source:
4 of 6
5. No Really...
Source:
5 of 6
6. All My Single Ladies!
Source:
6 of 6
Gary's Tea: Will Nick Cannon's America's Got Talent Replacement Be Funny Enough? [EXCLUSIVE VIDEO]  was originally published on rickeysmileymorningshow.com