The Dallas Wings make the playoffs look easy winning back to back games against the Atlanta Dream! Last night the ladies scored their first ticket to the WNBA Semifinals after defeating Atlanta 101-74 at College Park Center in Arlington, TX. According to NBC, this is also the first team in WNBA history to have seven, double-digit scorers in a playoff game!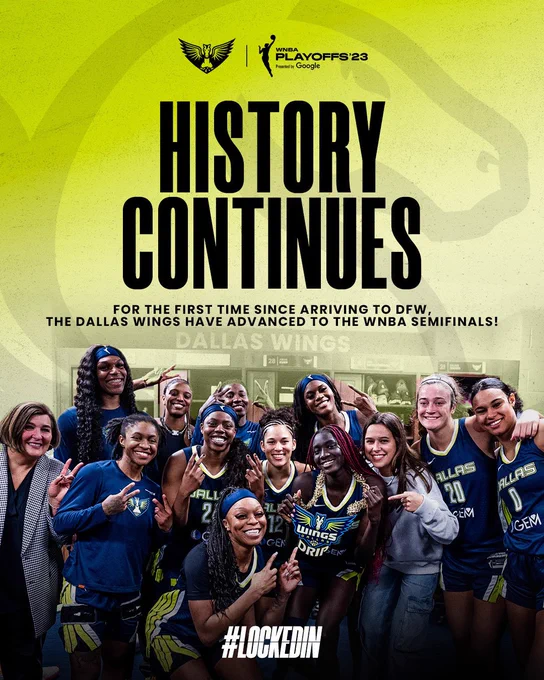 Arike Ogunbowale led the team with 20 points, followed by Awak Kuier and Satou Sabally both with 13 points on the board. Teaira McCowan turned the defense up with 16 rebounds securing her double–double with 12 points.
Coach Trammell, whose had a pretty amazing first year as the head coach for the Wings, had to take a moment to soak it all in after the game.  "I think about my mom and dad and my brother that I lost,[They were] my biggest supporters. I thought about them a lot during this game. and I know they are extremely proud."
WNBA Playoffs Round 1 Recap
Game 1 – Sun., Sept 10, 2023
Dallas Wings  94-77  Las Vegas Aces
Game 2 – Fri., Sept 15, 2023
Dallas Wings  94-82  Las Vegas Aces
Game 3 – Tues., Sept 20, 2023
Dallas Wings  101-74  Las Vegas Aces
Check out highlights from last night's game and get ready for the WNBA Semifinals where the Dallas Wings take on the Las Vegas Aces at the Michelob Ultra Arena Sunday, Sept 24 at 4PM!
1. In The Last 2, The Wings Will Show You What It Do!
2. Michael Finley, Dirk Nowitzki, and Jason Kidd Courtside!
3. The Moment It Happened..
4. A Toast To The Wining Team!
5. Icey Girls Before the Game!
6. Wings Talk Playoff Win!
7. Nasty Block By Teaira McCowan
8. Wings Win! Full Game Highlights!